For every $250 you spend at NAPA Auto Parts, Ashdown-Ingram, Covs and R&E Auto Parts from October until the end of December you'll receive one entry into the draw to win the ultimate NAPA Auto Parts summer pack valued at over $500!
Each NAPA Auto Parts Summer pack comes with 1x Coleman Event 14 Shelter Standard with Sunwall, 1x soft esky cooler Bag, x2 beach towels, 1x grip ball game and 1x beach mat for the perfect summer's day!
There are 10 prize packs up for grabs at each branch!
Double points are awarded for purchasing NAPA branded product, and also double entries for Platinum and Elite customers!
NAPA branded products include those products which are branded NAPA, not products available from NAPA. The range of NAPA branded products includes quality oil, air, cabin and fuel filters, oils. wipers, timing kits and more.
Prizes are drawn every month! Four winners will be drawn at the end of October, four at the end of November and two at the end of December at each location.
Terms and conditions apply, click this link for full conditions. Some customer exclusions apply. Allow up to 8 weeks for delivery of prizes once promotion has ended.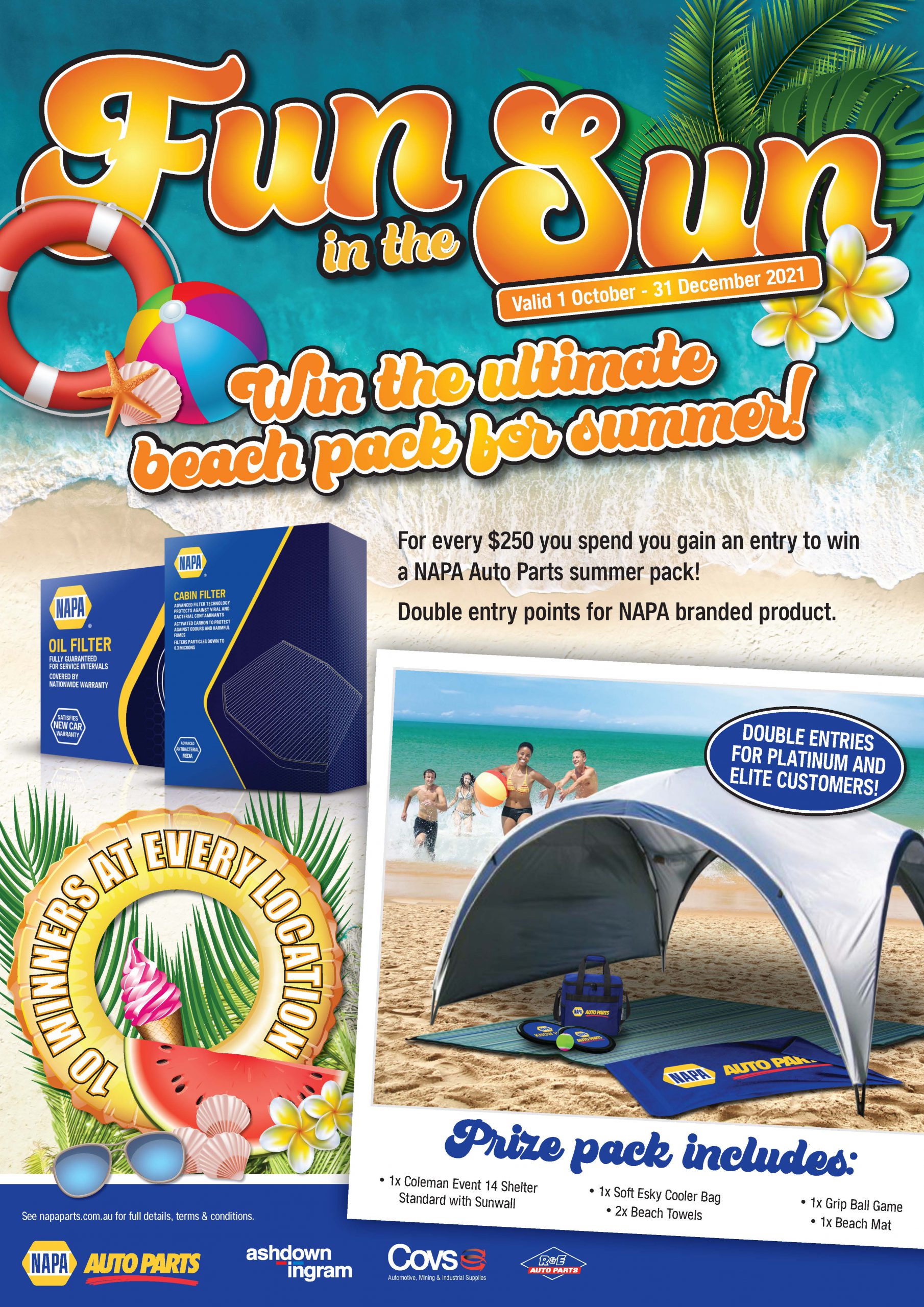 NAPA BURLEIGH HEADS
Winner 1
XPEDITION CAMPERS
Winner 2
REDLINE EFI
Winner 3
JEFF PRITCHARD AUTO ELECTRICS
Winner 4
VANLIFE INSTALLS
Winner 5
AFLEX FABRICATION
Winner 6
MOTOR ACCESSORIES DIRECT
Winner 7
BUSLINES GROUP LISMORE
Winner 8
MILBURN MOTORS
Winner 9
BUSLINES GROUP LISMORE
Winner 10
SANTIN EARTHMOVING
NAPA COOPERS PLAINS
Winner 1
GLEN'S AUTO ELECTRICS & A/CON
Winner 2
BEATTIE MECHANICAL PTY LTD
Winner 3
REGYP
Winner 4
LAKES AUTO ELECTRICS
Winner 5
ALL LIFT BRISBANE
Winner 6
BLINGMAN HQ CUSTOM STAINLESS
Winner 7
BRICE TRAILERS PTY LTD
Winner 8
MECHANICS IN BOONAH
Winner 9
DARYL DICKENSON TRANSPORT
Winner 10
PRICE BROTHERS MECHANICAL
NAPA MOLENDINAR
Winner 1
WAYNES MOBILE AUTO ELECT
Winner 2
COASTAL BUS WORKS
Winner 3
AUSTRALIAN BUS & TRUCK
Winner 4
ANYTHING MECHANICAL
Winner 5
AQUADUCK SAFARIS GOLD COAST
Winner 6
ANYTHING MECHANICAL
Winner 7
DYNAMIC DIESEL SERVICES
Winner 8
GOLD COAST TRUCK & DIESEL
Winner 9
WAYNES MOBILE AUTO ELECT
Winner 10
COASTWIDE MECHANICAL
NAPA SLACKS CREEK
Winner 1
WOODRIDGE AUTO ELECTRICS
Winner 2
KIWI FRENCH AUTOMOTIVE
Winner 3
PRECISION AUDIO
Winner 4
CRICK AUTO ELECTRICAL
Winner 5
XTREME ELECTRONICS PTY LTD
Winner 6
SEQ TRUCK AND TRAILER REPAIRS
Winner 7
HAYDEN POST MAINTENANCE
Winner 8
KLM MARINE ELECTRICS
Winner 9
UNIDAN ENGINEERING
Winner 10
WOODRIDGE AUTO ELECTRICS
NAPA TOOWOOMBA
Winner 1
DALZIEL EARTHWORKS
Winner 2
HMF ENGINEERING (QLD) PTY LTD
Winner 3
DAN FLOHR MECHANICAL
Winner 4
CAMERON JAMES TICKELL
Winner 5
DANNY ALLAN RUSSELL
Winner 6
BEVERLEIGH
Winner 7
CRAFT MECHANICAL SERVICES
Winner 8
DARLING DOWNS HAULAGE
Winner 9
DAN FLOHR MECHANICAL
Winner 10
ARC POINT INDUSTRIES
NAPA VIRGINIA
Winner 1
HARNEX
Winner 2
ON & OFF ROAD MECHANICAL
Winner 3
WHITEYS WIRING
Winner 4
MICK O'BRIEN AIR CON & ELECS
Winner 5
ROO SYSTEMS AUSTRALIA
Winner 6
CRAIG'S AUTOCARE
Winner 7
PREMIER TINT & TOWBARS
Winner 8
A & M ELECTRICS
Winner 9
SCORPION MOBILE ACCESSORY FITT
Winner 10
WHITEYS WIRING
A-I BUNDABERG
Winner 1
GREENSILL FARMING
Winner 2
WESTECH AUTO ELECT & CARAVAN
Winner 3
MECHWELD INDUSTRIES QLD
Winner 4
EASTSIDE AUTO ELECT
Winner 5
ABSOLUTE DIESEL SERVICES
Winner 6
DC AUTO ELECTRICAL & AIRCONDIT
Winner 7
GEORGES MOBILE AUTO ELECTRICS
Winner 8
OKARA PTY LTD
Winner 9
WESTECH AUTO ELECT & CARAVAN
Winner 10
BUNDABERG TOYOTA
A-I CABOOLTURE
Winner 1
FRUITHAUL
Winner 2
JB CARAVANS
Winner 3
CRANK AUTO ELECTRICS & AIR CON
Winner 4
BROWN CONTRACTORS
Winner 5
TYRES GALORE & MECHANICAL
Winner 6
EZ MACHINERY
Winner 7
CUSTOM PERFORMANCE OFFROAD
Winner 8
OSBORNE GROUP
Winner 9
EXCEPTION EXCAVATIONS
Winner 10
ASHER ENTERPRISES
A-I WARANA
Winner 1
MARINE MAINTENANCE
Winner 2
RE WIRE AUSTRALIA
Winner 3
ARMESTO'S TRANSPORT
Winner 4
SAM'S DIESEL REPAIRS
Winner 5
ARGY'S COOL AUTOMOTIVE AIR
Winner 6
BLACK CAT CIVIL
Winner 7
DJL AUTO CARE
Winner 8
EAST COAST AUTO ELECTRICS
Winner 9
VICTOR AND LEE
Winner 10
MECHANICARE NOOSA
NAPA EMERALD
Winner 1
SMITH CATTLE COMPANY
Winner 2
CHRISWAYS (QLD)
Winner 3
TRACTION DIESEL SERVICES
Winner 4
ASHTINA SAND & GRAVEL PTY LTD
Winner 5
CMF RURAL INDUSTRIAL TYRES
Winner 6
WHITEHOUSE GROUP
Winner 7
MAYNE RIVER GYPSUM SALES
Winner 8
ASHTINA SAND & GRAVEL PTY LTD
Winner 9
CHRISWAYS (QLD)
Winner 10
G & M PEARCE GARAGE
NAPA DARWIN
Winner 1
WHITE DIESEL
Winner 2
FREDDYS CAR INSTALLATIONS
Winner 3
BILBA GROUP
Winner 4
SPANNER TIME
Winner 5
BENCHMARK DIESEL SERVICES
Winner 6
ALL CAR AIRCON
Winner 7
HIREWORKS
Winner 8
LAURIE'S AUTO AIR CONDITIONING
Winner 9
ARNHEM EARTHMOVING
Winner 10
WHITE DIESEL
NAPA GLADSTONE
Winner 1
DRINNANS DIESEL & AUTO REPAIRS
Winner 2
TIM BARKER AUTO ELECTRICS
Winner 3
LEIGH DIESEL MAINTENANCE
Winner 4
AESTEC SERVICES
Winner 5
UNIVERSAL CRANES GLADSTONE
Winner 6
OUTCALL MECHANICAL GLADSTONE
Winner 7
REEF CITY FORD
Winner 8
BITS MECHANICAL & AUTO ELECT
Winner 9
CURTIS ISLAND SERVICES
Winner 10
TIM BARKER AUTO ELECTRICS
NAPA MACKAY
Winner 1
MINELECTRIX
Winner 2
GUNNING TECHNICAL INDUSTRIES
Winner 3
GEMINI MACKAY
Winner 4
AUSTRALIAN SHAFT DRILLING
Winner 5
CORTIS CIVIL & DEMO
Winner 6
BRAD TRUEMAN
Winner 7
AURIZON PLANT MAINTENANCE
Winner 8
DIESEL ELECTRICS AUSTRALIA
Winner 9
CONINGSBY HIGHWAY AUTO ELEC
Winner 10
AYM MAINTENANCE PTY LTD
NAPA ROCKHAMPTON
Winner 1
LEE CRANE HIRE BILOELA
Winner 2
AMCOR EXCAVATIONS PTY LTD
Winner 3
GO MECHANICAL
Winner 4
ROCKY'S OWN TRANS KAWANA
Winner 5
MOBILE ENGINEERS
Winner 6
ALLMECH MARINE, MINING & CIVIL
Winner 7
WIDELAND TRUCKS AND EQUIPMENT
Winner 8
REO HEAVY EQUIPMENT REPAIRS
Winner 9
WIDELAND TRUCKS AND EQUIPMENT
Winner 10
JONESYS GARAGE
NAPA TOWNSVILLE
Winner 1
MOTOCO GROUP
Winner 2
JAYCO TOWNSVILLE
Winner 3
KM ENTERPRISES QLD
Winner 4
LESLIES AUTO ELEC
Winner 5
SWEETS AUTOMOTIVE AIRCON
Winner 6
AS AUTO & SPARES
Winner 7
HD & AM SQUIRE
Winner 8
MOTOCO GROUP
Winner 9
STRONG MOTORS
Winner 10
WOODFIELD ENGINEERING
A-I CAIRNS
Winner 1
ADVANCED AUTO ELECTRICS
Winner 2
N.Q. AUTO ELECTRICS
Winner 3
WILLIAMS AUTO ELECTRICIANS
Winner 4
HONEYCOMBES SALES CAIRNS
Winner 5
VEHICLE REPAIR & AIRCONDITION
Winner 6
REMOTE FLEET MANAGEMENT
Winner 7
COBAVIE'S AUTO ELECTRICS
Winner 8
A1 MECHANICAL SERVICING REPAIR
Winner 9
AUTOCOOL CAIRNS
Winner 10
N.Q. AUTO ELECTRICS
A-I MT ISA
Winner 1
MOOREY'S AUTO ELECTRICS
Winner 2
TEWINGA PASTORAL HOLDINGS
Winner 3
MALOUF AUTO GROUP
Winner 4
BARKLY HIRE
Winner 5
AUTOFIRST SERVICE & REPAIRS
Winner 6
TOTAL GENERATORS CLONCURRY
Winner 7
MALOUF AUTO GROUP
Winner 8
NORMECH EQUIPMENT REPAIRS
Winner 9
MALOUF AUTO GROUP
Winner 10
TEWINGA PASTORAL HOLDINGS
NAPA AUBURN
Winner 1
WESTERN SYDNEY REPAIR CENTRE
Winner 2
AUSTRALIAN MOBILE RADIO
Winner 3
A H PETERS
Winner 4
KENNY CONSTRUCTIONS AUSTRALIA
Winner 5
EVANS TRUCK REPAIRS PTY LTD
Winner 6
AMTEK PTY LTD
Winner 7
WESTERN SYDNEY REPAIR CENTRE
Winner 8
LENCROW PTY LTD
Winner 9
COLLISION MASTER
Winner 10
MR MOBILE
NAPA BERESFIELD
Winner 1
TOTAL SOLAR & 12VOLT SOLUTIONS
Winner 2
TRANSPORT & INDUSTRIAL
Winner 3
LIVE ACTION AUTO ELECTRICAL
Winner 4
COREFLEET SINGLETON
Winner 5
FARRELLY CONSTRUCTION SERVICES
Winner 6
TUNE WORKS NEWCASTLE
Winner 7
KENTAN MACHINERY
Winner 8
COLAS NEW SOUTH WALES TOMAGO
Winner 9
TRANSPORT & INDUSTRIAL
Winner 10
MUSWELLMOTIVE
NAPA CANBERRA
Winner 1
TUGGERANONG AUTO ELEC
Winner 2
SPECIALIZED TOWING
Winner 3
CANBERRA SAND & GRAVEL
Winner 4
ARMA FABRICATION
Winner 5
WEERONA WELDING
Winner 6
GOULBURN FARM MACHINERY
Winner 7
SPECIALIZED TOWING
Winner 8
BURRA'S SERVICE CENTRE
Winner 9
TUGGERANONG AUTO ELEC
Winner 10
BRAIDWOOD AUTO ELECTRICS
NAPA NEWCASTLE
Winner 1
LUKE SARGENT MOBILE MECHANICAL
Winner 2
ACCELERATE MOBILE MECHANICS
Winner 3
MEGA PACIFIC
Winner 4
MELROSE MOBILE HYDRAULICS
Winner 5
STABILISED PAVEMENTS AUST
Winner 6
EUROPEAN CAR CENTRE
Winner 7
MACKA'S SAND & SOIL
Winner 8
COVE MARINE
Winner 9
WAYNES AUTO ELECTRICAL SERVICE
Winner 10
LUKE SARGENT MOBILE MECHANICAL
NAPA WETHERILL PARK
Winner 1
ARNDELL PARK AUTO ELEC
Winner 2
ONTRAK AUTO ELECTRICAL
Winner 3
WCCG
Winner 4
JOHNSTONS TRANSPORT SMITHFIELD
Winner 5
GLENORIE AUTO ELEC
Winner 6
NEW AGE TRUCK BODIES PTY LTD
Winner 7
EURO TRUCK REPAIRS PTY LTD
Winner 8
BUSLINES GROUP BATHURST
Winner 9
MAJ AUTO ELECTRICAL
Winner 10
NEVILLE'S BUS SERVICE
NAPA WOLLONGONG
Winner 1
FIRST CHOICE EARTHWORKS
Winner 2
WARRIGAL CHARTERS
Winner 3
EARTHCRUISER
Winner 4
ILLAWARRA TOYOTA
Winner 5
FIGTREE AUTO ELECTRICS
Winner 6
EXPRESS TRUCK SERVICE
Winner 7
WOLLONGONG AUTO ELECTRICS
Winner 8
ALL BARRED UP
Winner 9
BROUGHTON CREEK AUTOMOBILE
Winner 10
WARRIGAL CHARTERS
A-I ALBURY
Winner 1
JAYCO ALBURY WODONGA
Winner 2
L & P MACKIN FORKLIFTS
Winner 3
COROWA AUTO ELECTRICS
Winner 4
PLANTATION HARVESTING
Winner 5
A & B MAHER AUTO ELECTRICAL
Winner 6
KERRS AUTO ELECTRICAL
Winner 7
YARRA/MUL AUTO ELECTRICS
Winner 8
JAYCO ALBURY WODONGA
Winner 9
WHEELERS AUTOMOTIVE ELECTRICAL
Winner 10
J LEAHY & CO
A-I ALEXANDRIA
Winner 1
ACE AUTO ELECTRICAL & A/C
Winner 2
TOTAL MARINE ELECTRICAL
Winner 3
ULTRA TUNE MASCOT
Winner 4
ANDERSEN MARINE
Winner 5
AQUAVOLT ELECTRIC BOAT PARTS
Winner 6
CAROLOGY
Winner 7
PAUL BAGNELL AUTO ELEC
Winner 8
PENSHURST AUTO ELECTRICAL
Winner 9
ULTRA TUNE MASCOT
Winner 10
A & B AUTO ELECTRICAL
A-I COFFS HARBOUR
Winner 1
VOODOO AUTO ELECTRICAL
Winner 2
FOREST COACH LINES
Winner 3
EXPRESS COACH MACKSVILLE
Winner 4
A P AUTO ELECTRICAL & AIRCON
Winner 5
COFFS HARBOUR DIESEL
Winner 6
DARREN REDIGER AUTO ELECT
Winner 7
HD MECHANICAL AND ELECTRICAL
Winner 8
WATSONS CARAVANS PORT
Winner 9
EXPRESS COACH MACKSVILLE
Winner 10
VOODOO AUTO ELECTRICAL
A-I DUBBO
Winner 1
ANDREWS AUTO ELECT
Winner 2
ABJS SPARKES & SPANNERS
Winner 3
CJ & BJ AUTOMOTIVE & AIR
Winner 4
AGRI-PLANT REPAIRS & SERVICES
Winner 5
WESTERN TRUCK GROUP
Winner 6
WARDS MECHANICAL REPAIRS
Winner 7
LEIGH'S AUTO CENTRE
Winner 8
MITCHELL OPERATIONS
Winner 9
DJ & NA DAYMOND
Winner 10
WARDS MECHANICAL REPAIRS
A-I PENRITH
Winner 1
M & K TRAILERS PTY LTD
Winner 2
PARKLEA SAND & SOIL
Winner 3
JEFFSANN PLANT HIRE
Winner 4
PACE AUTO ELECTRICAL
Winner 5
RETAINING SOLUTIONS DESIGN
Winner 6
MULGOA CUSTOM TRUCK BODIES
Winner 7
WESTERN TOWBARS & BULLBARS
Winner 8
MICHAEL ATTARD AUTO ELEC
Winner 9
MSB CONSTRUCTION SERVICES
Winner 10
SAGE CIVIL
A-I TAMWORTH
Winner 1
PEEL VALLEY MACHINERY SERVICE
Winner 2
KENWAY & CLARK MOREE
Winner 3
MERRIWA ENGINEERING
Winner 4
NEW ENGLAND COACHES
Winner 5
WARRAWEE FARMING PTY LTD
Winner 6
MERRIWA ENGINEERING
Winner 7
NEW ENGLAND COACHES
Winner 8
MCGREGOR GOURLAY – WARIALDA
Winner 9
ABRAHAM SEN AUTOMOTIVE
Winner 10
WESTEND SOUND
A-I WAGGA WAGGA
Winner 1
DOUG SUTHERLAND TRUCK REPAIR
Winner 2
AMPERA SERVICES
Winner 3
EQUIPMENT & SERVICE
Winner 4
DAVID GRAS AUTO ELECTRICS
Winner 5
WATSON TOYOTA
Winner 6
WAGGA RADIATOR & CAR AIR
Winner 7
TUMUT AUTO ELEC & AIRCON
Winner 8
THOMAS BROS TOYOTA
Winner 9
CARRUTHERS MACHINERY CO
Winner 10
DOUG SUTHERLAND TRUCK REPAIR
NAPA BALLARAT
Winner 1
TRULINE STEERING & SUSPENSION
Winner 2
TAG-A-LONG TRAILERS
Winner 3
HOWELL RAIL PTY LTD
Winner 4
WESTERN VICTORIA CRANE TRUCKS
Winner 5
WESTERN VICTORIA CRANE TRUCKS
Winner 6
WESTERN AUTO WORKS
Winner 7
MICK'S AUTO
Winner 8
HORSHAM AUTO ELECT
Winner 9
JOHN MORGAN AUTO ELEC
Winner 10
WESTERN VICTORIA CRANE TRUCKS
NAPA BAYSWATER
Winner 1
SG AUTO ELECTRICS & ACCESS
Winner 2
Q-FE
Winner 3
PACCAR PARTS
Winner 4
TUFFMAN
Winner 5
ONE STOP BRAKE SHOP
Winner 6
SG AUTO ELECTRICS & ACCESS
Winner 7
RINGWOOD NISSAN #30446
Winner 8
FULL BORE AUTOMOTIVE SERVICES
Winner 9
PACCAR PARTS
Winner 10
CROYDON AUTO ELECTRICAL SERV
NAPA CLAYTON
Winner 1
JOHN KAMEL AUTOMOTIVE
Winner 2
WILSON PLANT & EQUIPMENT
Winner 3
EASTCOAST TRUCK & BUS
Winner 4
H M MOTOR
Winner 5
CALOVIC PTY LTD
Winner 6
MW TOOLBOX MANUFACTURING
Winner 7
M.T MECHANICAL PTY LTD
Winner 8
AUTO SENSE AUTOMOTIVE
Winner 9
MACFARLANE GENERATORS
Winner 10
NYORA MOTOR GARAGE
NAPA HEIDELBERG WEST
Winner 1
MORELAND BUS LINES
Winner 2
ADR AUTO ELECTRICS
Winner 3
ALPH-FAIR AUTOS PTY LTD
Winner 4
VB AUTOMOTIVE SERVICES LTD
Winner 5
L.C.DYSON'S BUS BUNDOORA
Winner 6
SPARKS AUTO ELECTRICAL
Winner 7
VB AUTOMOTIVE SERVICES LTD
Winner 8
MARTINO AUTO REPAIRS
Winner 9
VB AUTOMOTIVE SERVICES LTD
Winner 10
SOUTH MORANG MAZDA
NAPA HOBART
Winner 1
SPECIALIST AUTO BRIGHTON
Winner 2
J.D BRANCH
Winner 3
AJC ELECTRONICS
Winner 4
BISHOP AUTO ELECT
Winner 5
STEVEN DENNY
Winner 6
WILCOX BODYWORKS
Winner 7
JACKMANS BODYWORKS
Winner 8
SOUTHERN AUTO ELECTRICS
Winner 9
JET AUTOMOTIVE PTY LTD
Winner 10
VINAKA PTY LTD
NAPA MORNINGTON
Winner 1
CARBINE CAR CAR
Winner 2
MORNINGTON PENINSULA CAR CARE
Winner 3
BRM MOTORS (VIC)
Winner 4
AFFORDABLE AUTO SALVAGE
Winner 5
PCM INDUSTRIES
Winner 6
V&G PLANT & EQUIPMENT
Winner 7
PENINSULA KUBOTA
Winner 8
AFFORDABLE AUTO SALVAGE
Winner 9
MORNINGTON PENINSULA CAR CARE
Winner 10
AUTO ELECTRICIAN 2 U
NAPA PAKENHAM
Winner 1
STAR MOTORWORKS
Winner 2
PAUL DAVY
Winner 3
CARDINIA AUTO ELECTRICAL SERVI
Winner 4
EMERALD AUTOMOTIVE REPAIRS
Winner 5
BRANDT TRACTOR PTY LTD
Winner 6
GME PTY LTD
Winner 7
MOONSHINE MOTORS
Winner 8
CARDINIA AUTO ELECTRICAL SERVI
Winner 9
PAKENHAM A GRADE SERVICE CENTR
Winner 10
GARFIELD NORTH AUTOCARE
NAPA TRARALGON
Winner 1
PETE & RICKS PANEL WORKS
Winner 2
WAYNE HAWKINS
Winner 3
J AND E AUTO ELECTRICAL
Winner 4
UNIQUE AUTO SERVICE
Winner 5
WHELANS EARTHMOVING
Winner 6
TRANSERV AUTOMOTIVE
Winner 7
DONALDA MOTOR SERVICE
Winner 8
REVOLUTION AUTO ELECTRICS
Winner 9
LATROBE VALLEY TRUCK WORKS
Winner 10
DJM ONSITE
NAPA TULLAMARINE
Winner 1
TASTY FRESH
Winner 2
JNC BUILT PTY LTD
Winner 3
VEHICLE DEVELOPMENT
Winner 4
KILMORE AUTO ELEC
Winner 5
VACLIFT
Winner 6
SUNTYRE BAKE & FRONT END
Winner 7
THE FLEET DR PTY LTD
Winner 8
BRIMBANK AUTO ELECT
Winner 9
A.L.S. AUTOMOTIVE ELECTRICAL
Winner 10
CHRISTIAN'S BUS CO BACCHUS MSH
A-I BENDIGO
Winner 1
ADVANCED AG TECHNOLOGY
Winner 2
FENTON'S DIESEL
Winner 3
CUSTOM RESTOR SERV
Winner 4
MANCALA MINE SERVICES
Winner 5
AGRI-ELEC PTY LTD
Winner 6
CHARGED UP AUTO ELECTRICAL
Winner 7
B & G AUTOMOTIVE
Winner 8
BENDIGO FORKLIFT HIRE
Winner 9
INNES MOTORS
Winner 10
CENTRE STATE ASPHALTING
A-I GEELONG
Winner 1
LETHBRIDGE AUTOMOTIVE & FIELD
Winner 2
SOUTHERN CROSS FLOATS
Winner 3
GROUNDWAVE DRILLING SERVICES
Winner 4
MCKINNON QUARRIES & CIVIL
Winner 5
WEST COAST SERVICE CENTRE
Winner 6
PORTSIDE AUTOMOTIVE & MARINE
Winner 7
TGR TRANSPORT
Winner 8
AUTOMOTIVE ELECTRICAL
Winner 9
CHRISTIAN'S BUS CO-OCEAN GROVE
Winner 10
WELLAM CONSTRUCTIONS
A-I LAUNCESTON
Winner 1
RLW MECHANICAL
Winner 2
A & R AUTO ELECTRICS
Winner 3
NABOWLA QUARRIES
Winner 4
JAMES LOHREY CARAVANS AND
Winner 5
VELLEKOOP EARTHMOVING PTY LTD
Winner 6
RLW MECHANICAL
Winner 7
WALTERS CONTRACTING
Winner 8
EARLEY SPREADING
Winner 9
TAS AUTO AIR
Winner 10
DEVONPORT AUTO ELECTRICS
A-I REGENCY PARK
Winner 1
HAGE TRACTORS IMPLEMENTS
Winner 2
EYRE RADIATORS
Winner 3
ATKINSON AUTO ELECTRICAL
Winner 4
BROKEN HILL TRUCK CENTRE
Winner 5
COPPER COAST AUTO ELECT
Winner 6
GITSHAM
Winner 7
BAROSSA OFFROAD CAMPERS
Winner 8
FREIGHTMASTER
Winner 9
BROKEN HILL TRUCK CENTRE
Winner 10
N & C AG
A-I SUNSHINE WEST
Winner 1
ALEX FRASER ASPHALT
Winner 2
SELECT PLANT HIRE
Winner 3
PALM TRANS
Winner 4
G & I DALY CABLE LAYERS
Winner 5
KALMAR EQUIPMENT (AUSTRALIA)
Winner 6
CITY CIRCLE RECYCLING PTY LTD
Winner 7
WESTERN CARAVANS
Winner 8
JENKCORP PTY LTD
Winner 9
G & I DALY CABLE LAYERS
Winner 10
JULZ AUTO ELECTRIX
A-I THEBARTON
Winner 1
CLISBY AUTO ELECTRICAL
Winner 2
BRIDGE HYDRAULICS & MECHANICAL
Winner 3
GP MOBILE AUTO ELECT
Winner 4
ADAM'S AUTO CENTRE
Winner 5
GUMBAILIE MOBILE MECHANICAL
Winner 6
ADELAIDE HILLS TOYOTA
Winner 7
BIG RIVER NISSAN
Winner 8
G M HITCH AUTO REPAI
Winner 9
HEAVY VEHICLE ELECTRICS
Winner 10
BIG RIVER NISSAN
R&E DANDENONG
Winner 1
UNIQUE STAR MECHANICAL
Winner 2
HI PRO SERVICE CENTER
Winner 3
N.S.MECHANICAL
Winner 4
SAS AUTO MECHANICAL PTY LTD
Winner 5
TYRELINK CROYDON
Winner 6
UNIQUE STAR MECHANICAL
Winner 7
SAS AUTO MECHANICAL PTY LTD
Winner 8
DISARA AUTOMOTIVE SERVICE
Winner 9
MJS AUTO SERVICES
Winner 10
RUSON PTY LTD
NAPA BIBRA LAKE
Winner 1
URBAN RESOURCES PTY LTD
Winner 2
WEST END GARAGE
Winner 3
AUTOMOTIVE SPORTS ENGINEERING
Winner 4
VAUTEX MOBILE SERVICES
Winner 5
PEBCO AUTOMOTIVE SERVICES
Winner 6
WOMA AUSTRALIA PTY LTD
Winner 7
MECH SPEC 2020 AUTOMOTIVE
Winner 8
JLC AUTO CENTRE
Winner 9
88 AUTOMOTIVE
Winner 10
AUTO MASTERS COCKBURN
NAPA BUNBURY
Winner 1
CRAMELDID HOLDINGS PTY LTD
Winner 2
CB TRAFFIC SOLUTIONS
Winner 3
PROTUNE AUTOMOTIVE & PERFORMAN
Winner 4
MANJIMUP AUTOMOTIVE SERVICES
Winner 5
LAWLER MA & JM
Winner 6
BUNBURY TRUCKS
Winner 7
AGRI SPARK AUTO ELECTRICS
Winner 8
CT BLAKERS FARMING
Winner 9
ROBERTO JR LINDAYA ROLDAN
Winner 10
J W CROSS MAINTENANCE
NAPA GERALDTON
Winner 1
PIRONE'S SAND SUPPLIES
Winner 2
RED DUST HOLDINGS
Winner 3
DEAN CONTRACTING PTY LTD
Winner 4
X W ENGINEERING PTY LTD
Winner 5
X W ENGINEERING PTY LTD
Winner 6
NEPIA FAMILY TRUST
Winner 7
DONGARA DRILLING & ELECTRICAL
Winner 8
MANDURAH BUS CHARTERS
Winner 9
NEPIA FAMILY TRUST
Winner 10
X W ENGINEERING PTY LTD
NAPA JOONDALUP
Winner 1
SIMPSON AUTOMOTIVE SERVICES
Winner 2
ULTRA TUNE WHITFORDS
Winner 3
AUTO MASTERS CURRAMBINE
Winner 4
AUTOBAHN MINDARIE
Winner 5
AUTOBAHN MINDARIE
Winner 6
JOONDALUP EXHAUST & BRAKE CENT
Winner 7
SWAN TRANSIT PTY LTD
Winner 8
ULTRA TUNE WHITFORDS
Winner 9
D & AJ WRIGLEY
Winner 10
JOONDALUP EXHAUST & BRAKE CENT
NAPA KALGOORLIE
Winner 1
GOLDFIELDS TOYOTA PRE DELIVERY
Winner 2
WESTRALIAN DIAMOND DRILLERS
Winner 3
QUATTRO PROJECT ENGINEERING
Winner 4
A-Z AUTOCARE CENTRE
Winner 5
WESTRALIAN DIAMOND DRILLERS
Winner 6
MEEDAC BOULDER TRADING POST
Winner 7
NOV PORTABLE POWER KALGOORLIE
Winner 8
ROSS DIESEL SERVICES
Winner 9
PERSEVERANCE DRILLING
Winner 10
A-Z AUTOCARE CENTRE
NAPA KARRATHA
Winner 1
NW MECHANICAL SOLUTIONS
Winner 2
DRILLINE CIVIL & HAULAGE
Winner 3
HUNTER MECHANICAL PTY LTD
Winner 4
WELLSITE SERVICES-PORTABLE PWR
Winner 5
WEST KIMBERLEY AUTO
Winner 6
MURAN AUTO ELECTRICS
Winner 7
HUNTER MECHANICAL PTY LTD
Winner 8
DRILLINE CIVIL & HAULAGE
Winner 9
TMF MECHANICAL PTY LTD
Winner 10
MOBILE CONCRETING SOLUTIONS
NAPA KELMSCOTT
Winner 1
KAVALIER
Winner 2
TRIGGS GARAGE
Winner 3
DOWSING GROUP PTY LTD
Winner 4
WEST COAST TRUCKING
Winner 5
WEBBIE'S MECHANICAL
Winner 6
CTS LOW LOADERS PTY LTD
Winner 7
PERTH BRAKE CLUTCH & EXHAUST
Winner 8
ARMADALE MOWER WORLD
Winner 9
MUNDIJONG MECHANICAL & MOBILE
Winner 10
WEST COAST TRUCKING
NAPA MALAGA
Winner 1
CYNJAMES
Winner 2
WHEELS ON YIRRIGAN
Winner 3
AUTO MASTERS MIRRABOOKA
Winner 4
RISING SUN RACING
Winner 5
WILSONS DIESEL & AUTO
Winner 6
CAR CARE EVOLUTION
Winner 7
GELMI ENGINEERING
Winner 8
MIRRABOOKA AUTO ELECTRICS
Winner 9
CYNJAMES
Winner 10
WEST CITY COMMERCIALS
NAPA MANDURAH
Winner 1
AUTOMOTIVE INSPECTION SERVICES
Winner 2
ECT CONTRACTING
Winner 3
CALMACK PANEL & PAINT
Winner 4
WEST COAST AUTOMOTIVE GROUP
Winner 5
GREENACRES TURF FARM
Winner 6
MARINER DIESEL SERVICES
Winner 7
WESTERN HEAVY DIESEL
Winner 8
PEEL MOTORS PTY LTD
Winner 9
CARAVAN KING MOBILE REPAIRS
Winner 10
WEST COAST AUTOMOTIVE GROUP
NAPA MIDLAND
Winner 1
ROGERS AUTO ELECTRICS
Winner 2
WRIGHT WC & SJ
Winner 3
MIDLAND HYUNDAI/KIA/NISSAN/ISU
Winner 4
AUTO MASTERS HIGH WYCOMBE
Winner 5
AUTOBAHN MIDLAND
Winner 6
STE-MECH PTY LTD
Winner 7
REDLINE CRANES
Winner 8
FABS AUTOS
Winner 9
REDLINE CRANES
Winner 10
AUTOBAHN MIDLAND
NAPA OSBORNE PARK
Winner 1
CLAREMONT AUTO ELECTRICS
Winner 2
HERDSMAN AUTO SERVICE
Winner 3
CITY TOYOTA NORTHBRIDGE
Winner 4
DELS AUTO SERVICE CENTRE
Winner 5
WESTCOAST AUTO ELECTRICS
Winner 6
AUDI CENTRE PERTH
Winner 7
FLEETSPEC HIRE
Winner 8
SWISS MOTORS
Winner 9
WEMBLEY AUTOCARE
Winner 10
STOKES & RENK
NAPA ROCKINGHAM
Winner 1
ALPINE AUTO ELECTRICS PTY LTD
Winner 2
ULTRA TUNE ROCKINGHAM
Winner 3
CASTLE EQUIPMENT HIRE
Winner 4
NOR-WELL TRANSPORT AND PLANT
Winner 5
WESTERN EDGE MOTORCYCLES
Winner 6
PORT KENNEDY AUTO SERVICES PTY
Winner 7
OUTLAW BOATS
Winner 8
COASTAL BRAKE & CLUTCH SERVICE
Winner 9
ULTRA TUNE ROCKINGHAM
Winner 10
PORT KENNEDY AUTO SERVICES PTY
NAPA WANGARA
Winner 1
T & T AUTOMOTIVE
Winner 2
MV AUTO SERVICE & REPAIR WAN
Winner 3
AUTOBAHN BANKSIA GROVE
Winner 4
DTL INDUSTRIES
Winner 5
EATHER SHANE AUTO ACTION
Winner 6
J & M MOBILE AUTO ELECTRICS
Winner 7
ELITE HOLDINGS (WA) PTY LTD
Winner 8
AUTOSPARK GREENWOOD
Winner 9
AUTO MASTERS WANGARA
Winner 10
DNA EQUIPMENT SERVICES
A-I KEWDALE
Winner 1
BRITEFORCE
Winner 2
ALLIANCE GROUP
Winner 3
CLASS 1 AUTO ELECTRICS
Winner 4
ELEC TECH DIESEL SERVICES
Winner 5
JAKES AIRELEC
Winner 6
ADVANCED AUTO ELECTRICS (WA)
Winner 7
J & K CIVIL WA PTY LTD
Winner 8
ALLIANCE GROUP
Winner 9
ENVIRO PLANT HIRE
Winner 10
PIRTEK WELSHPOOL
COVS WELSHPOOL
Winner 1
COREFLEET PERTH
Winner 2
AUTOMOTIVE WIZARDRY
Winner 3
THE PART DETECTIVE
Winner 4
WESTSIDE AUTO WHOLESALE
Winner 5
D E ENGINEERS
Winner 6
DAMAGE CONTROL
Winner 7
CAPITAL RECYCLING
Winner 8
LITTLE'S MECHANICAL
Winner 9
COREFLEET PERTH
Winner 10
CALLCOTT & DOWNEY PTY LTD