Summer's almost here! To celebrate during September and October, every $250 you spend on our home brands at NAPA Auto Parts, Ashdown-Ingram, Covs and R&E Auto Parts will give you an automatic entry into the draw to win a Weber Q Premium BBQ (Q2200) and tool set valued over $500!
These brands include Blacktips, Drivetech4x4, Flokool, Fuelmiser, Great Whites, Kelpro, NAPA, OEX, ProSelect, RDA Brakes, Thunder and Tru-Flow.
Everyone has a chance to win! There is a BBQ up for grabs at every location, meaning there are 61 winners nationally and a greater chance of winning compared to a national promotion.
The WeberQ 2200 is the perfect sidekick for summer! The WeberQ 2200 is large enough to cook up a storm, but compact enough to take camping, caravanning, down to the beach or even entertain at home! Built to last with porcelain-enamelled cast iron split cooking grills, cast aluminium body and quality electronic ignition, the WeberQ is a fantastic BBQ for everyone.. It also includes a built in thermometer and high lid which makes grilling up a feast easy no matter where you are.
To be in with a chance to win your very own Weber BBQ just in time for summer, place order through your local NAPA Auto Parts now.
Note that the prize does not include a gas bottle.
Platinum and Platinum Elite customers will each receive double entries (i.e. 2 entries per $250 spent). For a list of excluded customers, please contact your local branch.
For full terms and conditions, please click here.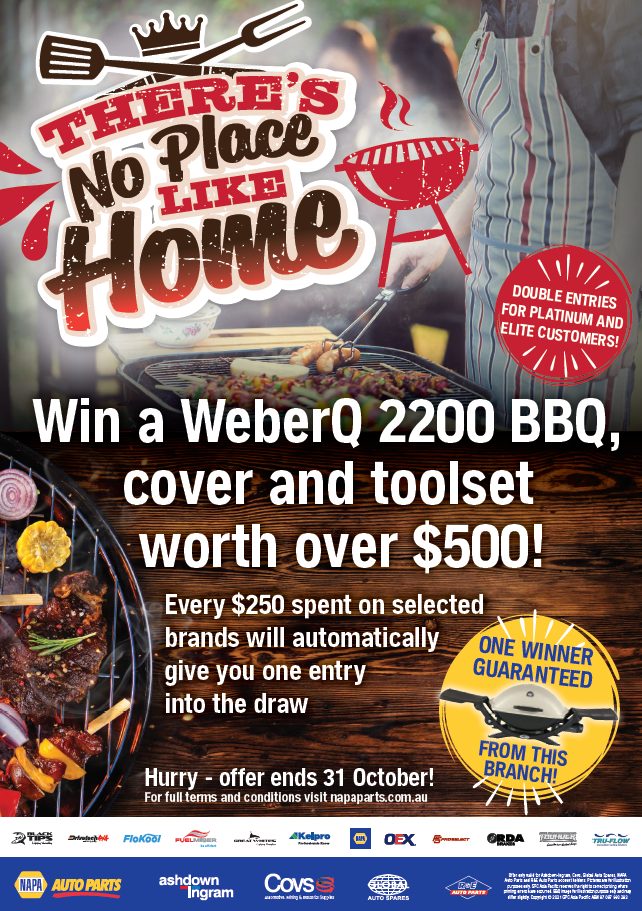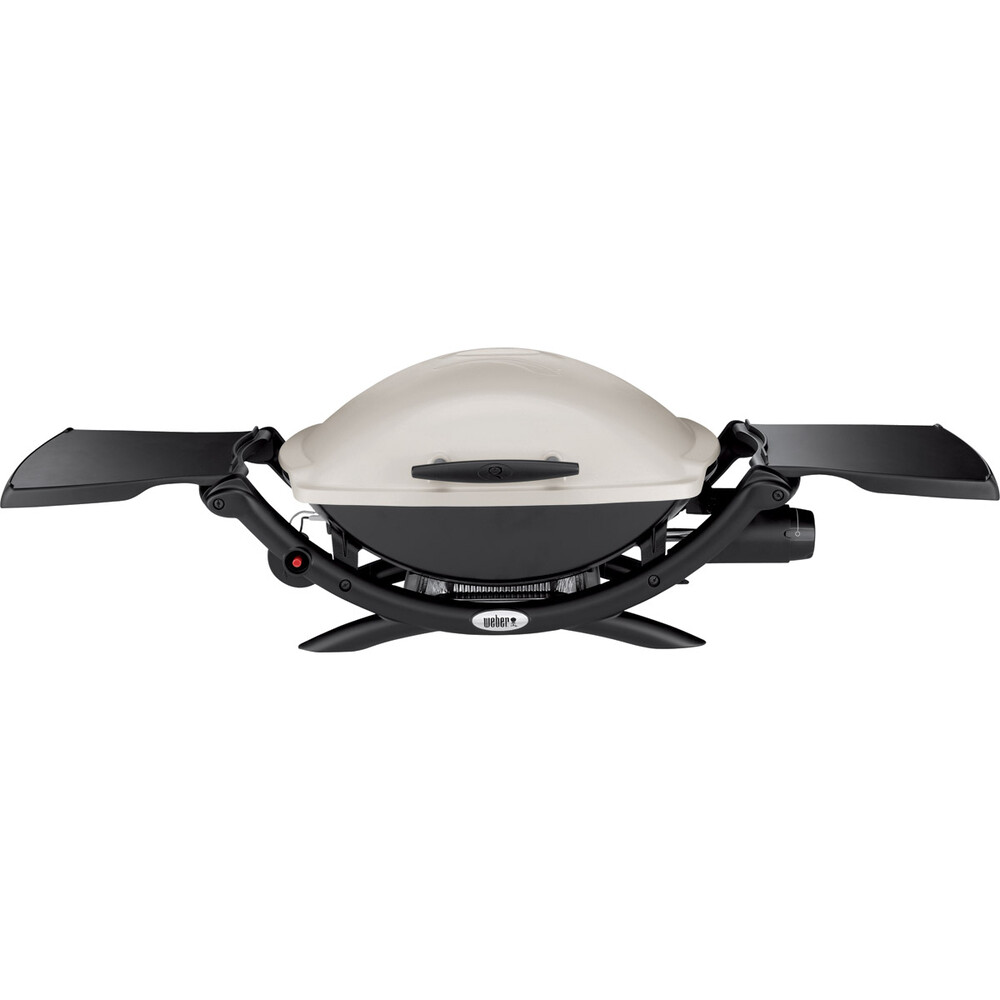 | | |
| --- | --- |
| A-I BUNDABERG | VOYAGE MARINE ELECTRICS |
| | |
| A-I CABOOLTURE | KEL STANTON'S MOBILE DIESEL |
| | |
| A-I WARANA | WESTERN TRUCK GROUP |
| | |
| NAPA BURLEIGH HEADS | WOODYS AUTO ELECTRICAL |
| | |
| NAPA COOPERS PLAINS | GRAEME CAMPBELL TRUST |
| | |
| NAPA MOLENDINAR | ON BOARD ELECTRICAL |
| | |
| NAPA SLACKS CREEK | WIRED UP AUTO ELECTRICAL |
| | |
| NAPA TOOWOOMBA | BLACK TOYOTA CENTRAL |
| | |
| NAPA VIRGINIA | PINE RIVERS CAR ELECTRICS |
| | |
| --- | --- |
| A-I CAIRNS | HARRIS OPERATIONS PTY LTD |
| | |
| A-I MT ISA | TEWINGA PASTORAL HOLDINGS |
| | |
| NAPA EMERALD | WESTERN MECHANCIAL QUEENSLAND |
| | |
| NAPA DARWIN | D & T PERFORMANCE |
| | |
| NAPA GLADSTONE | RUDGE SERVICES AND MECHANICAL |
| | |
| NAPA MACKAY | HAYNES MECHANICAL MACKAY |
| | |
| NAPA ROCKHAMPTON | AUTOLEC CQ |
| | |
| NAPA TOWNSVILLE | KENNY'S AUTO ELECTRICAL |
| | |
| --- | --- |
| A-I ALBURY | MOTACARE SHEPPARTON |
| | |
| A-I ALEXANDRIA | ABC TYREPOWER & MECHANICAL |
| | |
| A-I COFFS HARBOUR | ULTRA TUNE COFFS HARBOUR |
| | |
| A-I DUBBO | MAPPERSON MECHANICAL |
| | |
| A-I PENRITH | TRANSPORT & WASTE SOLUTION |
| | |
| A-I TAMWORTH | MARTINS STOCK HAULAGE PTY LTD |
| | |
| A-I WAGGA WAGGA | DENTONE AUTO ELECTRICS |
| | |
| NAPA AUBURN | GARY SO |
| | |
| NAPA BERESFIELD | R & D MOBILE AUTO ELECTRICS |
| | |
| NAPA CANBERRA | ANM AUTO ELECTRICS |
| | |
| NAPA NEWCASTLE | MEGA PACIFIC |
| | |
| NAPA WETHERILL PARK | METROSERVE |
| | |
| NAPA WOLLONGONG | ILLAWARRA TOYOTA |
| | |
| --- | --- |
| A-I BENDIGO | PIONEER FORD |
| | |
| A-I GEELONG | BARTLETT'S WASTE MANAGEMENT |
| | |
| A-I LAUNCESTON | SCOTT DEVEREAUX EXCAVATIONS |
| | |
| A-I REGENCY PARK | FARMERS CENTRE |
| | |
| A-I SUNSHINE WEST | JK TRUCK & TRAILER REPAIR |
| | |
| A-I THEBARTON | BELAIR ROAD A/ELEC |
| | |
| NAPA BALLARAT | ADVANCED CRANES & RIGGING |
| | |
| NAPA BAYSWATER | GOODYEAR ATUOCARE BAYSWATER |
| | |
| NAPA CLAYTON | J & S SERVICE CENTRE |
| | |
| NAPA HEIDELBERG WEST | VB AUTOMOTIVE SERVICES |
| | |
| NAPA HOBART | SOUTH EAST AUTOMOTIVE AIR COND |
| | |
| NAPA MORNINGTON | MIKES AUTO ELECTRICS |
| | |
| NAPA PAKENHAM | CASEY TRANSMISSIONS |
| | |
| NAPA TRARALGON | WHELANS EARTHMOVING |
| | |
| NAPA TULLAMARINE | ULTRA TUNE ESSENDON |
| | |
| R&E DANDENONG | MOTOR MAX AUTOMOTIVE |
| | |
| --- | --- |
| A-I KEWDALE | ICM GROUP WA |
| | |
| COVS WELSHPOOL | CANNINGTON AUTO REPAIRS |
| | |
| NAPA BIBRA LAKE | AUTO MASTERS SPEARWOOD |
| | |
| NAPA BUNBURY | AGRI SPARK AUTO ELECTRICS |
| | |
| NAPA GERALDTON | MORAWA RURAL ENTERPRISES |
| | |
| NAPA JOONDALUP | AUTOMOTION MOBILE MECHANIC |
| | |
| NAPA KALGOORLIE | ARTA ENTERPRISES |
| | |
| NAPA KARRATHA | MC AUTOELECRTICS |
| | |
| NAPA KELMSCOTT | L J MECHANICAL |
| | |
| NAPA MALAGA | CAR CARE EVOLUTION |
| | |
| NAPA MANDURAH | CLINT'S MECHANICAL CAR & TRUCK |
| | |
| NAPA MIDLAND | CHARLA  DOWNS PTY LTD |
| | |
| NAPA OSBORNE PARK | NEDLANDS AUTO REPAIRS |
| | |
| NAPA ROCKINGHAM | TRIANGLE ENGINEERING CONSULTAN |
| | |
| NAPA WANGARA | WESTCOAST PROFILERS |