Australia's latest NAPA Auto Parts branch is now located in the gateway to Melbourne, relocating years of specialist knowledge from Ashdown-Ingram Tullamarine into a new, bigger location.
The team is now excited to reopen their doors as NAPA Auto Parts Tullamarine, just a few minutes down the road at 36 Lillee Crescent.
The conversion to the blue and gold means more products, greater service and easier accessibility for more automotive specialists and generalists repairers in the northern Melbourne region.
NAPA Auto Parts Tullamarine is now Victoria's seventh location joining NAPA Auto Parts Ballarat, Bayswater, Clayton, Heidelberg West, Mornington and Traralgon and is the 38th Australian NAPA Auto Parts branch.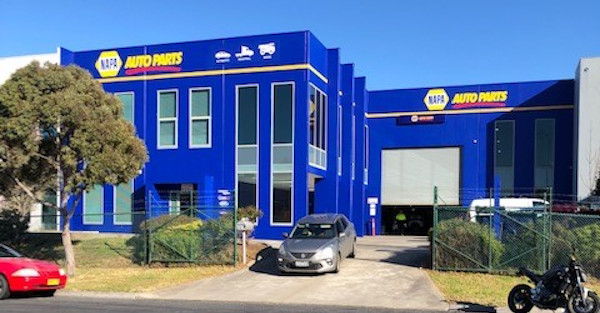 NAPA Auto Part's Regional Manager, Gary Downs, is excited to see Tullamarine re-join the community under the NAPA Auto Parts brand and bring their NAPA Know How knowledge of aftermarket parts to the Tullamarine area.
"After working with local specialist repairers for so many years as Ashdown-Ingram Tullamarine, it's great to re-open our doors as NAPA Auto Parts Tullamarine and expand this service to generalist mechanical workshops and repairers, but with greater access to new, diverse range of products from world renowned brands.

"What this NAPA Auto Parts conversion means to customers, is that they will have access to over 90 years' experience in the automotive industry and gain access to new, exciting tools like NAPA PROLink. We have the Know How and capability to support you more than ever," he said.
This Know How extends into a range of product categories, including auto electrical, braking, air con and servicing, as well as clutch and driveline, engine cooling and steering and suspension. NAPA Auto Parts aims to ensure we have all the products you need to complete the job at hand, including the tools and workshop equipment to get it done right.
Alf DeNardis, Branch Manager, is happy to be back in Tullamarine after having to temporarily relocate last month while building works were being carried out. "We've been calling customers to get them excited that we're located back in Tulla and can deliver the service they know and expect from the team.
"We've been keen to sell more products to more workshops in the area for some time so having the new blue building and wide stock profile feels like we're prepared to take on the competition like never before," he said.
One of the tools in Alf's arsenal is NAPA PROLink, which will allow customers to search for vehicle parts in an enhanced catalogue search system, be able to access real time information on pricing and inventory at your own branch and surrounding branches, as well as giving you the ability to build customer quotes, order parts online, search for Log Book Service Information (requires SmartQuote subscription), plus much more. More than ever we'll be able to get you the right part for your vehicle every time.
For the first-rate customer experience you've come to expect from Ashdown-Ingram Tullamarine, as well as the world's most trusted brands, head to see Branch Manager Alf De Nardis and his team at NAPA Auto Parts Tullamarine at 36 Lillee Crescent, or give the team a call on 03 8336 6444.