For every $250 you spend at NAPA Auto Parts, you will receive one entry into the draw to win an exclusive Man Cave pack including 60L esky, 2x bar stools and a dart board!
There's one major prize at each location with 10x runner up prizes of a 17L esky up for grabs at each branch.
All you need to do is purchase Great Whites, Projecta, Ecco, OEX, Narva and Thunder branded products for your chance to win. For even more chances to win, we're giving away BONUS ENTRIES each month:
Great Whites & Projecta in April
Ecco & OEX in May
Narva & Thunder in June
This means when you're after quality lighting, auto electrical accessories and battery management products, look no further than NAPA Auto Parts, Ashdown-Ingram, Covs or R&E Auto Parts.
Platinum and Elite Partner customers earn double points with every purchase.
There is no minimum invoice value, just keep spending with NAPA Auto Parts and their associated brands for your chance to win.
Terms and conditions apply, click this link for full conditions. Some customer exclusions apply. Allow up to 8 weeks for delivery of prizes once promotion has ended.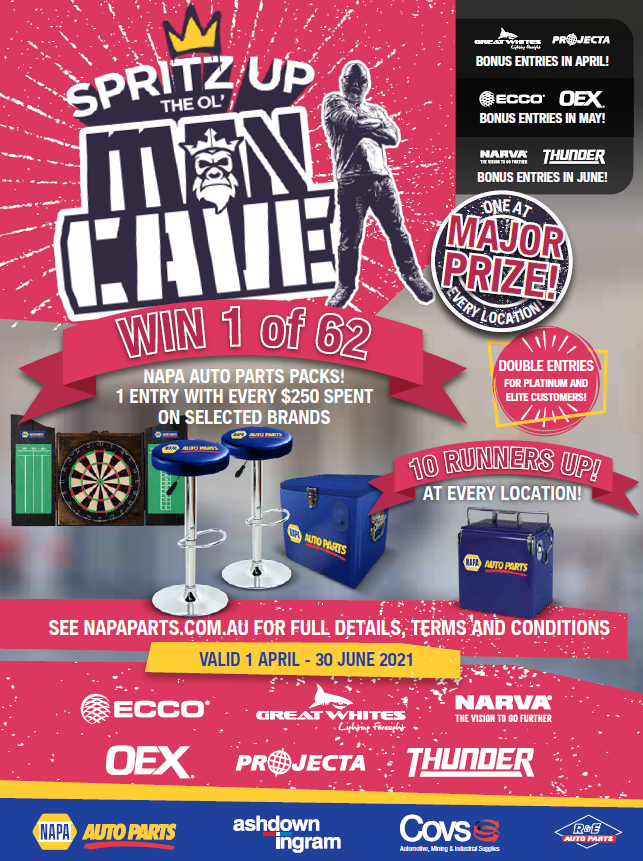 NAPA BURLEIGH HEADS
Winner 1
HERNES FREIGHT SERVICE
Minor 1
GOLDSTONE AIRCONDITIONING
Minor 2
CASINO AUTO ELECTRICAL
Minor 3
S & K INDUSTRIES
Minor 4
WOODYS AUTO ELECTRICAL
Minor 5
CRYSTAL COOLING
Minor 6
GRAND MOTORS MOLENDINAR
Minor 7
RUSSELL HEALE ENGINEERING
Minor 8
TCG GROUP PTY LTD
Minor 9
MUZZ FAB PTY LTD
Minor 10
CENTRAL COAST AUTO ELECT
NAPA COOPERS PLAINS
Winner 1
RADPOL ENGINEERING AUSTRALIA
Minor 1
GLOBE ROAMER PTY LTD
Minor 2
SJR OFFROAD
Minor 3
AIR & GAS INDUSTRIES
Minor 4
AUTO ANYWHERE
Minor 5
HYDRAULINK AUSTRALIA
Minor 6
MOBILE AUTO ELECTRICAL SERVICE
Minor 7
BRUDER EXPEDITION
Minor 8
A.N.R AUTO ELECTRICS
Minor 9
XL INDUSTRIES
Minor 10
TEKSERV CONTRACTING PTY LTD
NAPA MOLENDINAR
Winner 1
ASAP AUTO ELECTRICS
Minor 1
LACK ELECTRICS
Minor 2
R.W.C'S R US
Minor 3
GIBBS TRUCK & TRAILER PARTS
Minor 4
GRIMMO'S GARAGE
Minor 5
GOLD COAST ISUZU TRUCKS
Minor 6
RED DOG CAMPERS
Minor 7
EZI STEER QLD
Minor 8
AUSTRALIAN DAVITS & CRANES
Minor 9
PARADISE MOTOR HOMES
Minor 10
CAPRI AUTO SERVICE CENTRE
NAPA TOOWOOMBA
Winner 1
BLACK TRUCK SALES DALBY
Minor 1
PNB DIESEL SERVICES
Minor 2
SAVANNA ENERGY SERVICES
Minor 3
LUCAS TRUCK REPAIRS
Minor 4
FKE MECHANICAL & SONS
Minor 5
MARANOA MECHANICAL PTY LTD
Minor 6
SMITH PLANT HIRE QLD
Minor 7
SUPERIOR DIESEL TECH
Minor 8
HEAVY DUTY VEHICLE ELECTRICS
Minor 9
BNW AUTOMOTIVE
Minor 10
GERARD JOHNSON TRANSPORT
NAPA VIRGINIA
Winner 1
IOR PETROLEUM PTY LTD
Minor 1
AUSSIE AUTO ELECTRICS MOBILE
Minor 2
BAW AUTOMOTIVE
Minor 3
INFINITY DIESEL SOLUTIONS P/L
Minor 4
ULTRA TUNE GEEBUNG
Minor 5
SOUTH EAST QLD HAULIERS
Minor 6
AUSTRAL MOTORS
Minor 7
M & R AUTO CARE
Minor 8
TILTA TRAILERS
Minor 9
REVOLUTION PAINT & PANEL
Minor 10
BETTA CAR ELECTRICS AND AIRCON
A-I BUNDABERG
Winner 1
JEFF DOESSEL AUTO & AIR
Minor 1
DIFFTRANS QLD PTY LTD
Minor 2
BOOYAL QUARRIES
Minor 3
GIN GIN DIESEL
Minor 4
ALL-U-NEED AUTOMOTIVE
Minor 5
WAYNE AMMENHAUSER AUTOMOTIVE
Minor 6
BERAJONDO EARTHMOVING & HAUL
Minor 7
ABC AUTO-TECH
Minor 8
STR PRODUCTS
Minor 9
MECHWELD INDUSTRIES QLD PTYLTD
Minor 10
THOMAS AUTO ELECTRICS
A-I CABOOLTURE
Winner 1
WIRED SOLUTIONS QLD
Minor 1
1300 AUTOTRANS
Minor 2
JB CARAVANS
Minor 3
HUSTON FORD-NISSAN-SUZUKI
Minor 4
CRANK AUTO ELECTRICS & AIR CON
Minor 5
KH AUTO ELECTRICAL SERVICES
Minor 6
MOBILE REPAIR UNIT (MRU)
Minor 7
MARKETGATE LOGISTICS
Minor 8
CARAVAN WORX
Minor 9
FLEMINGS GARAGE
Minor 10
JK'S AUTO & TRUCK ELECTRICAL
A-I WARANA
Winner 1
ANDREW'S 'A' GRADE MECHANICAL
Minor 1
COOLOOLA WINDOW TINTING, SIGNS
Minor 2
INFINITY ECO DESIGNS
Minor 3
AUTO MOBILE ELECTRICS AND AIR
Minor 4
TOTALLY 12 VOLT
Minor 5
POWERS TRANSPORT QLD PTY LTD
Minor 6
NORTHCOAST CAMPERS
Minor 7
MOBILISED AUTO ELECTRICAL
Minor 8
TEWANTIN MOBILE AUTO ELECTRICS
Minor 9
CDC SOUTH EAST QUEENSLAND P/L
Minor 10
ULTRATUNE CURRIMUNDI
NAPA EMERALD
Winner 1
BLACKWATER QUARRIES
Minor 1
GARRAWAY GROUP
Minor 2
TIGHE INDUSTRIES PTY LTD
Minor 3
CONCRETE PUMPING QUEENSLAND
Minor 4
BP LONGREACH / PALM PARTS
Minor 5
JA-MAX INDUSTRIES PTY LTD
Minor 6
BENNETT CONTRACTING AND PLANT
Minor 7
CARBINE INVESTMENTS QLD
Minor 8
MARSHALL MOBILE WELDING
Minor 9
BONZA EARTH MOVING REPAIRS P/L
Minor 10
CDY DIESEL SERVICES
NAPA GLADSTONE
Winner 1
NIXON COMMUNICATIONS GLADSTONE
Minor 1
AURIZON GLADSTONE COAL SOUTH
Minor 2
RON STREETER MOTORS PTY LTD
Minor 3
TM MECHANICAL
Minor 4
HEAVY EQUIPMENT MAINTENANCE
Minor 5
LISTER MOTORS
Minor 6
MOIR TRUCK HIRE & MAINTENANCE
Minor 7
WALZ CONSTRUCTION COMPANY P/L
Minor 8
AG EQUIP
Minor 9
CURTIS ISLAND SERVICES
Minor 10
AESTEC SERVICES
NAPA MACKAY
Winner 1
GUNNING TECHNICAL INDUSTRIES
Minor 1
CQMG PTY LTD
Minor 2
MOGGYS CONTRACTING PTY LTD
Minor 3
BRAD TRUEMAN
Minor 4
S & L MCDERMOTT PTY LTD
Minor 5
HAWK PLANT HIRE
Minor 6
DRILL PRO SERVICES
Minor 7
BATH CONTRACTING
Minor 8
DOWDENS GROUP
Minor 9
DIESELTEC EARTHMOVING SER
Minor 10
TONY PARKER AUTO ELECTRICAL
NAPA ROCKHAMPTON
Winner 1
REO HEAVY EQUIPMENT REPAIRS
Minor 1
MOORVALE EARTHMOVING PTY LTD
Minor 2
DC MOTORS
Minor 3
AUSTRALIAN BUS & TRUCK R/H
Minor 4
TOTAL DIESEL SERVICES
Minor 5
KRT AUTOMOTIVE
Minor 6
DAWSON VALLEY COURIERS
Minor 7
WADE'S AUTO ELECTRICS
Minor 8
STEENYS WELDING SERVICES
Minor 9
BARTLEM CONSTRUCTION SERVICES
Minor 10
JJ RICHARDS & SONS
NAPA TOWNSVILLE
Winner 1
CJS MOBILE AUTO ELECTRICS
Minor 1
SEARLES TRANSPORT PTY LTD
Minor 2
BROWNCO ENGINEERING
Minor 3
JBI – PRO
Minor 4
TROPICOOL AUTO AIRCONDITIONING
Minor 5
JONES FOREST MANAGEMENT
Minor 6
MOBILITY MODIFICATION SERVICES
Minor 7
CARDWELL AUTOMOTIVE & TOWING
Minor 8
CHAPPY'S WELDING
Minor 9
DOUGLAS & MILLER MOTOR BODY
Minor 10
NQ ICE PACK SERVICES
| | |
| --- | --- |
| A-I CAIRNS | |
| Winner 1 | QMAC MACHINERY |
| Minor 1 | BME NQ |
| Minor 2 | WILTECH AUTOMOTIVE |
| Minor 3 | DANNY WEST AUTOS |
| Minor 4 | NICKS MOBILE AUTO ELECTRICS |
| Minor 5 | TORQUE MASTERS AUTO REPAIR |
| Minor 6 | GLOBAL HIRE & SERVICES |
| Minor 7 | JOE'S AUTO ELECTRICS AND AIR |
| Minor 8 | KIDNER CRANE HIRE |
| Minor 9 | NQ ENGINEERING & FABRICATION |
| Minor 10 | ROB'S MOBILE AUTO ELECTRICS |
| | |
| --- | --- |
| A-I MT ISA | |
| Winner 1 | MYUMA |
| Minor 1 | JASON MUNCHENBERG |
| Minor 2 | ATLAS BATTERIES MOUNT ISA |
| Minor 3 | M & M CAMPBELL PTY LTD |
| Minor 4 | IQ ACCESS |
| Minor 5 | BARKLY HIRE |
| Minor 6 | WORLD WELDING & TRANSPORT |
| Minor 7 | STEELCON CAVA |
| Minor 8 | REMOTE MECHANICAL SERVICES |
| Minor 9 | CAVA HYDRAULICS & ENGINEERING |
| Minor 10 | POPEYS DIESEL SERVICES   GPP |
NAPA DARWIN
Winner 1
GOODLINE
Minor 1
PETER KITTLE ALICE SPRINGS
Minor 2
REDLINE AUTOMOTIVE
Minor 3
RAY TEBECK AUTO ELECTRICS
Minor 4
FULL NOISE AUTO ELECTRICS &
Minor 5
ALLAN KING & SONS CONSTRUCTION
Minor 6
COCONUT GROVE AUTO REPAIRS CEN
Minor 7
ADAM BAILEY MARINE SERVICES
Minor 8
KIMBERLEY QUARRIES
Minor 9
HALKITIS BROS PTY LTD
Minor 10
OUTBACK BATTERIES COOLALI
NAPA AUBURN
Winner 1
COMPLETE HIRE
Minor 1
RENTCORP FORKLIFTS
Minor 2
FREDERICK AIR CONDITIONING
Minor 3
AUSTRALIAN MOBILE RADIO
Minor 4
SYDNEY MARINE MECHANICAL
Minor 5
FERRYCARRIG CONSTRUCTION P/L
Minor 6
RUNNING GEAR AUTOMOTIVE
Minor 7
HYDRECO HYDRAULICS PTY LTD
Minor 8
A C MOBILE AUTO AIR
Minor 9
COLAS NEW SOUTH WALES PTY LTD
Minor 10
ALINE GROUP AUSTRALASIA P/L
NAPA BERESFIELD
Winner 1
GET AIR CONDITIONING AND
Minor 1
TRUCKSMART BERESFIELD
Minor 2
BATTERY KINGDOM
Minor 3
COLUMBRO MOTORSPORT GROUP
Minor 4
MSC RENTALS
Minor 5
CLEMENTS AIR CONDITIONING,REFR
Minor 6
RHOMBERG RAIL AUSTRALIA P/LTD
Minor 7
CENTRAL WASTE STATION
Minor 8
NIFTY
Minor 9
BRIMBLE RAIL
Minor 10
MPE REPAIRS
NAPA WETHERILL PARK
Winner 1
CROSS ROADS AUTOMOTIVE
Minor 1
SOUTHERN PLANT AND AUTO
Minor 2
SYDNEY TRUCKS & MACHINERY
Minor 3
ND AUTO ELECTRICAL
Minor 4
YOUII AUTO ELECTRICS
Minor 5
FAIRFIELD MOBILE AUTO ELECT
Minor 6
HUSQVARNA WETHERILL PARK
Minor 7
A-TECK AUTO ELECT
Minor 8
TRANSIT (NSW) SMITHFIELD DEPOT
Minor 9
A H WILTON AUTO ELECTRICAL SER
Minor 10
STH WEST TRUCK & TRAILER REPAI
NAPA NEWCASTLE
Winner 1
DITCHFIELD CONTRACTING
Minor 1
BELMONT AUTO ELECTRICS
Minor 2
STEVE MUDGE AUTO ELECTRICS
Minor 3
JOHN R. WILSON
Minor 4
MCALPIN & MAURER A/ELEC
Minor 5
NEWCASTLE TRANSPORT
Minor 6
CAMPER ENVY
Minor 7
WOY WOY AUTO ELECTRICS
Minor 8
CURTIS AUTO ELECTRICS
Minor 9
M T AUTOMOTIVE
Minor 10
SPARKS ON THE GO
NAPA WOLLONGONG
Winner 1
BRIAN MCCORMACK FORKLIFT MAINT
Minor 1
ON POINT AUTO ELECTRICS
Minor 2
REALTA ENTERPRISES PTY LTD
Minor 3
JMG AUTO ELECTRICAL
Minor 4
DAMIEN'S MOBILE A/E
Minor 5
SOILCO SOUTH NOWRA
Minor 6
ALL BARRED UP
Minor 7
PREMIER MOTOR SERV.
Minor 8
SELECT CIVIL KEMBLA GRANGE
Minor 9
AVAN NOWRA
Minor 10
SUNSET STRIP AUTOMOTIVE
NAPA CANBERRA
Winner 1
GULSON CANBERRA
Minor 1
CLASS AUTO ELECTRICS
Minor 2
EVERLAST AUTOMOTIVE
Minor 3
AMN AUTO ELECTRICAL
Minor 4
ENDURANCE AUTOMOTIVE
Minor 5
SAMARKOS EARTHMOVING
Minor 6
BRAIDWOOD AUTO ELECTRICS
Minor 7
JOHNSTON TRUCK BODIES
Minor 8
SIEGFRIED UNTERWEGER
Minor 9
MONARO TRUCK & MACHINERY
Minor 10
LEE & THOMAS
A-I ALBURY
Winner 1
NUMURKAH AUTOMOTIVE ELECTRICAL
Minor 1
JERILDERDE TYRE SERVICE P/L
Minor 2
COLEAMBALLY A/MOTIVE CENT
Minor 3
PLANTATION HARVESTING P/L
Minor 4
AMP AUTO ELECTRICS
Minor 5
BRIGHT AUTO ELETRICS PTY LTD
Minor 6
ARKON AUTO ELECTRICAL &
Minor 7
C AND L FAMILY TRUST
Minor 8
ANDREW GOLDMAN EXCAVATIONS
Minor 9
ALL TERRAIN AUTOMOTIVE PTY LTD
Minor 10
LAVINGTON AUTO ELECTRICAL
A-I ALEXANDRIA
Winner 1
RANDWICK AUTO ELECTRICS
Minor 1
ANDERSEN MARINE
Minor 2
ALEX'S AUTO SERVICES PTY LTD
Minor 3
STAR AUTO ELECTRICS (K)
Minor 4
PUNCHBOWL BUS CO PTY LTD
Minor 5
SHIRE ONE STOP AUTOMOTIVE
Minor 6
J MARDO AUTO ELECTRICS
Minor 7
AERIAL ACCESS AUSTRALIA
Minor 8
ALEXANDER PERRIE
Minor 9
BALMAIN AUTOMOTIVE PTY LTD
Minor 10
CLEAVEN'S FORKLIFTS
A-I COFFS HARBOUR
Winner 1
GOSLING ELECTRICAL
Minor 1
COFFS HARBOUR HARDWOODS
Minor 2
RECREATIONAL VEHICLE SERVICES
Minor 3
MACKSVILLE AUTO ELECTRICS
Minor 4
ABSOLUTE CAR SYSTEMS
Minor 5
A1 MOBILE MECHANICAL SERVICES
Minor 6
ACTIVE CAR& TRUCK ELECTRIC
Minor 7
ALL DIESEL EQUIP. SALES & SERV
Minor 8
CCW AND MECHANICAL PTY LTD
Minor 9
MOTORTORQUE AUTOMOTIVE
Minor 10
WAUCHOPE AUTO ELECTRICAL
A-I DUBBO
Winner 1
DUBBO CITY MOTORCYCLES
Minor 1
DUBBO HEAVY TOWING & SALVAGE
Minor 2
MIDSTATE FREIGHT & PARCEL SERV
Minor 3
NEILL EARTHMOVING
Minor 4
AMC MAINTENANCE & HIRE
Minor 5
ORANA COACHES
Minor 6
LEIGH'S AUTO CENTRE
Minor 7
CENTRAL WEST MECHANICAL SVCE
Minor 8
CLANCY FORD
Minor 9
CONEX SERVICES
Minor 10
LJ & RE DUNCAN
A-I PENRITH
Winner 1
AIR STAR CAR AIR CONDITIONING
Minor 1
APC4WD
Minor 2
WESTERN TOWBARS & BULLBARS
Minor 3
DGC AUTO ELECTRICS
Minor 4
ENZED PENRITH
Minor 5
HIGH PERFORMANCE MOTOR SPORT
Minor 6
HI-TECH HEAVY HAULAGE
Minor 7
RJF MOBILE AUTO ELECTRICAL
Minor 8
S&K AUTO ELECTRICAL
Minor 9
BLUE MOUNTAINS AUTO ELEC
Minor 10
WINDSOR AUTO ELEC & MECHANICAL
A-I TAMWORTH
Winner 1
KENWAY & CLARK WEE WAA
Minor 1
CLARKES MECHANICAL
Minor 2
MOREE TYREPOWER
Minor 3
NEW ENGLAND AG & AUTO AIR
Minor 4
HILL FITZSIMMONS
Minor 5
JOHN LANE REFRIGERATION
Minor 6
SANDERSON'S MOBILE TRUCK
Minor 7
MERRIWA ENGINEERING
Minor 8
BROWNING MOTORS
Minor 9
CIB SERVICES
Minor 10
DUFFYS AUTOMOTIVE TAMWORTH
A-I WAGGA WAGGA
Winner 1
WAGGA TRUCK TOWING
Minor 1
GIBBO'S AUTO ELECTRICS PTY LTD
Minor 2
PHIL RONNING MECHANICAL REPAIR
Minor 3
O'CONNORS WEST WYALONG
Minor 4
KJ AUTOMOTIVE
Minor 5
SM AUTO ELECTRICAL & AIR
Minor 6
LAKE VILLAGE AUTO PORT
Minor 7
AUTOEDGE MECHANICAL SERVICES
Minor 8
RODNEY'S TRANSPORT SERVICE
Minor 9
TUMUT TRUCK & TRACTOR
Minor 10
SMARTFIX AUTOMOTIVE
NAPA BALLARAT
Winner 1
CENTRAL MECHANICS & SUSPENSION
Minor 1
ADKAT CONTRACTING
Minor 2
JAMIE DRIDAN AUTOMOTIVE REPAIR
Minor 3
R & J SOBEY PTY LTD
Minor 4
CARLI ENGINEERING
Minor 5
LUKE QUICKS PERFORMANCE AUTO
Minor 6
WAYNE HORNE EARTHMOVING PTY LT
Minor 7
GEMSIJANSON PTY LTD
Minor 8
A & J AUTO ELECTRICS
Minor 9
SFI
Minor 10
PETES AUTOMOTIVE
NAPA BAYSWATER
Winner 1
HI-HAUL TRANSPORT
Minor 1
ACE EXHAUST & TOWBARS
Minor 2
TYRELINK CROYDON
Minor 3
ALL POWER AUTO ELECTRICS
Minor 4
BEKKERS MOTORS
Minor 5
KANNO'S CAR CARE
Minor 6
Q-FE
Minor 7
STREAMLINE AUTOMOTIVE
Minor 8
SV AUTO ELECTRICAL
Minor 9
TASTY FRESH
Minor 10
SHAUNE'S UNDERCAR CARE
NAPA CLAYTON
Winner 1
ACS1
Minor 1
SEA ELECTRIC
Minor 2
THE TRACTOR COMPANY
Minor 3
J & R PETTA MOTOR REPAIRS
Minor 4
WEST GIPPSLAND A/ELECT
Minor 5
SM MOTORSPORT WIRING
Minor 6
TOTAL FLEET MAINTENANCE
Minor 7
MT DATA
Minor 8
ULTRA TUNE CLAYTON
Minor 9
JACKSONS ROAD SERVICE STATION
Minor 10
TRUCK & COMPACTION SERVICES
NAPA HEIDELBERG WEST
Winner 1
VOPS AUTOMOTIVE SERVICES
Minor 1
TOMKINS MOTORS
Minor 2
IVANHOE FUEL
Minor 3
LIBERTY SERVICE CENTRE
Minor 4
ELITE AUTO ELECTRICAL
Minor 5
ALPH-FAIR AUTOS PTY LTD
Minor 6
MELBOURNE AUTO ELEC
Minor 7
KENDON ELECTICAL & MECHANICAL
Minor 8
C W AUTOMOTIVE
Minor 9
ULTRA TUNE PRESTON
Minor 10
GRANDPHIL MOTORS
NAPA MORNINGTON
Winner 1
PCM INDUSTRIES
Minor 1
A & A MOBILE AUTO ELECTRICAL
Minor 2
COOLIBAH HERBS PTY LTD
Minor 3
PALMER AUTOMOTIVE
Minor 4
ABS TRANSPORT INDUST
Minor 5
STUMPY GULLY HOLDINGS
Minor 6
MIKES AUTO ELECTRICS
Minor 7
MORNINGTON AUTOMOTIVE SPECIALS
Minor 8
L A FENNEY PTY LTD
Minor 9
BJP MOBILE A/ ROSEBUD
Minor 10
V&G PLANT & EQUIPMENT
NAPA TRARALGON
Winner 1
AERIAL MOTORS
Minor 1
RICHARDS HARVESTING & HAULAGE
Minor 2
MCINNES EARTHMOVING PTY LTD
Minor 3
BATT BROTHERS VEGETATION MGMT
Minor 4
ANR CAR CARE
Minor 5
LEADOUX AUTOMOTIVE PTY LTD
Minor 6
AUTO-LEC SOLUTIONS
Minor 7
FABBED
Minor 8
HEYFIELD AUTOMOTIVE 4X4
Minor 9
DRILLTEC PTY LTD
Minor 10
OMNI CRAFT
A-I BENDIGO
Winner 1
TRIPLETT MECHANICAL PTY LTD
Minor 1
ADVANCED AG TECHNOLOGY
Minor 2
ICEFIBRES
Minor 3
WESTYS AUTO & 4WD
Minor 4
PREMIER AUTO ELECTRICS
Minor 5
BRAD PETSCHEL'S AUTO
Minor 6
MCKEE GARAGE & ENGINEERING
Minor 7
SHAW AUTO ELECTRICAL
Minor 8
STARWEST PTY LTD
Minor 9
ALDRIDGE DIESEL REPAIRS
Minor 10
TRAFFIC AUSTRALIA (VIC)
A-I GEELONG
Winner 1
PJ & T MOTORS P/L
Minor 1
BRIGHT'S TRANSPORT
Minor 2
OCEAN GROVE A/MOTIVE
Minor 3
M A & A J MCDONALD P
Minor 4
DUNDRUM CIVIL CORIO
Minor 5
GAVIN AUTO ELECTRICS P/L
Minor 6
GELMOTORS (GEELONG)
Minor 7
BELLARINE PENINSULA AUTO ELECS
Minor 8
PORTLAND PRECISION ENGINEERING
Minor 9
ACME AUTO ELECTRICAL
Minor 10
WELLAM CONSTRUCTIONS
A-I SUNSHINE WEST
Winner 1
OUTWEST CONCRETE
Minor 1
EDDIES FORKLIFT SERVICES
Minor 2
PRINS AUTO GAS SYSTEMS
Minor 3
EURO TRUCK MECHANICAL
Minor 4
TRANQUIM AUTO ELECTRICS
Minor 5
MFI WARNING SYSTEMS
Minor 6
THORPE'S INTERSTATE TRANSPORT
Minor 7
TRAX INDUSTRIES
Minor 8
ALI'S MOBILE TRUCK REPAIR
Minor 9
GM TRUCK REPAIRS
Minor 10
CHROME AUTO ELECTRICS
A-I TULLAMARINE
Winner 1
DYNAMICS
Minor 1
GENERAL AUTO ELECTRICS
Minor 2
PURGO AUST. PTY LTD
Minor 3
ALL AUTO RECREATIONS
Minor 4
MCG CRANES
Minor 5
MANSFIELD CRUSHING
Minor 6
IMMACK AUTOELEC & AIRCON SERV
Minor 7
CARRICK MOTORS PTY LTD
Minor 8
EARTHTRACK SOLUTIONS PTY LTD
Minor 9
CAM'S CAR AND TRUCK REPAIRS
Minor 10
L.C.DYSON'S BUS RESERVOIR
R&E DANDENONG
Winner 1
CKS CAR CARE SERVICES
Minor 1
FRANK'S AUTO SERVICE CENTRE
Minor 2
LILYDALE MOTORS
Minor 3
D & D DIESEL SERVICES
Minor 4
WOODS ACCIDENT (TRACK RIGHT ON
Minor 5
MOTOR 1 AUTOMOTIVE PTY LTD
Minor 6
DANDENONG HEAVY TRUCKS & EQUIP
Minor 7
AUS TRUESTYLE PTY LTD
Minor 8
UNIQUE STAR MECHANICAL
Minor 9
A FROST & MA FROST
Minor 10
RUSON PTY LTD
R&E PAKENHAM
Winner 1
PAKENHAM RADIATORS & MECHANICA
Minor 1
SOUTH EASTERN DIESEL SERVICES
Minor 2
AUTO PLUS MORE
Minor 3
STUBBS AUTO PTY LTD
Minor 4
RAZZA AUTO ELECTRICAL
Minor 5
EMERALD AUTOMOTIVE REPAIRS
Minor 6
A&M TRACFIX
Minor 7
GALLAHAR GARAGE
Minor 8
DALE MORRISON
Minor 9
RNC AUTOMOTIVE REPAIRS
Minor 10
M&G VIZZARRI PTY LTD
NAPA HOBART
Winner 1
BRIGHT AUTO ELECTRICS
Minor 1
TASMAN AUTO ELECTRICS
Minor 2
DIRECT ACCESS DERWENT PARK
Minor 3
ALPHAS CARAVAN AND RV CENTRE
Minor 4
JMC AUTOMOTIVE
Minor 5
SPECIALIST AUTO HOBART PPE
Minor 6
C.S TARGETT & K.J TARGETT
Minor 7
AJC ELECTRONICS
Minor 8
BETTER PERFORMANCE CAR CARE
Minor 9
NJM MARINE
Minor 10
SOUTHERN CROSS PARTS HOBART
A-I LAUNCESTON
Winner 1
AHA CARPNTRY/JNERY/MTRHM CONVS
Minor 1
TIMMINS AUTOMOTIVE & SERVICES
Minor 2
MULTISKILLED TASMANIA
Minor 3
DMC AUTO ELECTRICAL SERVICES
Minor 4
CRANES COMBINED
Minor 5
AIRSIDE EQUIPMENT SPECIALIST
Minor 6
DIGGA EXCAVATIONS TAS PTY LTD
Minor 7
PFEIFFER CRANES
Minor 8
RUC MINING SAVAGE RIVER
Minor 9
WALTERS CONTRACTING
Minor 10
TAS MOBILE CARAVAN SERVICE
A-I REGENCY PARK
Winner 1
RTS REFRIGERATION
Minor 1
ALWIS AUTO REPAIRS
Minor 2
Q MECHANICAL SERVICES
Minor 3
EP MECHANICAL
Minor 4
SYMONS AND CLARK TRANSPORT P/L
Minor 5
RICKS MECHANICAL REPAIRS
Minor 6
MASON CONTRACTORS PTY LTD
Minor 7
PRINGLES AG-PLUS PTY LTD
Minor 8
ROXEN AUTO ELECTRICAL
Minor 9
SWAN FARM MACHINERY
Minor 10
CAT RESOURCES PTY LTD
A-I THEBARTON
Winner 1
BLEKIC'S MECHANICAL SERVICE
Minor 1
ADEL COD-MIKE LESCAI
Minor 2
G M HITCH AUTO REPAI
Minor 3
HOCKO'S AUTO CEDUNA
Minor 4
RV GROUP AUSTRALIA
Minor 5
HACKHAM AUTO ELECTRICAL
Minor 6
JAYCO ADELAIDE
Minor 7
JH ROSEWARNE PTY LTD
Minor 8
MURRAY VALLEY ELECTRICS
Minor 9
ADVANCED TRANSPORT REFRIGE
Minor 10
IVAN HAEUSLER AUTO ELECTRICAL
NAPA BIBRA LAKE
Winner 1
P & G BODY BUILDERS PTY LTD
Minor 1
88 AUTOMOTIVE
Minor 2
DE ROSA AUTO REPAIRS PTY LTD
Minor 3
MARINE SPARK & DC SUPPORT
Minor 4
NATIONAL TOOLS & HOSE PTY LTD
Minor 5
MCB AUTO REPAIRS
Minor 6
AUTO MASTERS COCKBURN
Minor 7
AUTOMOTIVE ELEC DESIGNS
Minor 8
RETCO PTY LTD
Minor 9
MELVILLE HOLDEN
Minor 10
PRIME DIESEL WA
NAPA BUNBURY
Winner 1
PRECISION WEST AUTO ELECTRICAL
Minor 1
HJ AUTO ELECTRICAL
Minor 2
SHEPHERDSON TRANSPORT
Minor 3
BOSUN MARINE
Minor 4
WALKERS MECHANICAL SOLUTIONS
Minor 5
BROCKMAN MECHANICAL & REFRIGER
Minor 6
AMBER AUTO ELECTRICS
Minor 7
MCINTOSH & SON KATANNING
Minor 8
WILSONS YORNUP SERVICES
Minor 9
MOTOLEC PTY LTD
Minor 10
TROY NICHOLS
NAPA GERALDTON
Winner 1
PAT'S MOBILE MECHANICAL
Minor 1
MEZGER RUSSELL MOTORS
Minor 2
SEACAT DIESEL
Minor 3
JMH GROUP
Minor 4
ML COMMUNICATIONS
Minor 5
S & R HAULAGE
Minor 6
ANCARA COMPRESSORS & MORE
Minor 7
COUNTRY TIME CARAVANS
Minor 8
KALBARRI A/CTR & CARS 4U2
Minor 9
ESSENTIAL LABOUR SOLUTIONS
Minor 10
KTB AUTO ELECTRICS
NAPA KARRATHA
Winner 1
J&S LABOUR & MACHINERY
Minor 1
DOUBLE R HEAVY KARRATHA
Minor 2
K.A.T SERVICES
Minor 3
OCEANIC OFFSHORE PTY LTD
Minor 4
JSS LOGISTICS PILBARA
Minor 5
PAT BEATTIE AUTO ELECTRICS
Minor 6
JOLLY GOOD AUTO ELECTRICS
Minor 7
LWP LOGISTICS
Minor 8
EXMOUTH CARAVANS
Minor 9
IRON MINE SERVICES STIRLING
Minor 10
CRANECORP AUSTRALIA
NAPA KELMSCOTT
Winner 1
DJM CARAVAN & RV REPAIRS
Minor 1
WORMALL PTY LTD
Minor 2
ROPS ENGINEERING AUSTRALIA P/L
Minor 3
IDP AUSTRALIA
Minor 4
RUBIX DESIGN
Minor 5
MARC'S MOBILE AUTO ELECTRICS
Minor 6
AL'S AUTOMOTIVES
Minor 7
SJ BORLINI
Minor 8
PLUGS AUTO REPAIRS
Minor 9
SITE FLEET SERVICES PTY LTD
Minor 10
ALLMAKES & MODELS MOBILE MECHA
NAPA MALAGA
Winner 1
GMF CONTRACTORS PTY LTD
Minor 1
CLASSIC MECHANICAL REPAIRS
Minor 2
ESM RESOURCES PTY LTD
Minor 3
TURFMASTER FACILITY MANAGEMENT
Minor 4
KING AUTO ELECTRIC'S
Minor 5
ELWINS AUTO BODY WORKS
Minor 6
WESTRALIA CAR CARE
Minor 7
THE EDGE PRODUCTS
Minor 8
MULTIPLE TRADES & MAINTENANCE
Minor 9
GERMAN MOTORWERKS
Minor 10
CITY TRUCK & TRAILER SALES
NAPA MANDURAH
Winner 1
LEWER JOHNNY SMASH REPAIRS
Minor 1
ENVIROTUNE AUTO CENTRE
Minor 2
MURRAY RIVER AUTO REPAIRS
Minor 3
PEEL MOTORS PTY LTD
Minor 4
DE ROSA'S HIGHWAY MOTORS P/L
Minor 5
JRM RESOURCES PTY LTD
Minor 6
MCCARTHY CORRY
Minor 7
MKT MECHANICAL SERVICES
Minor 8
RIGGS AUTO CENTRE
Minor 9
INFINITY MECHANICAL & ELEC SVE
Minor 10
CRAZY AUTOMOTIVE PERFORMANCE
NAPA MIDLAND
Winner 1
AUTOBAHN MIDLAND
Minor 1
RABBITT JOHN
Minor 2
SWAN HILLS AUTOMOTIVE PTY LTD
Minor 3
VOLTRANS PLUS
Minor 4
ABS MIDLAND
Minor 5
MJ THE MACKMAN
Minor 6
YERECOIN TRADERS
Minor 7
GREY PR & SJ
Minor 8
CHARLA  DOWNS PTY LTD
Minor 9
ULTRA LUBE
Minor 10
CHRIS MC AUTOMOTIVE SERVICES
NAPA OSBORNE PARK
Winner 1
JOLIMONT SERVICE CENTRE
Minor 1
OSBORNE FLEET SERVICES
Minor 2
MARTINOS AUTOS SERVICE CENTRE
Minor 3
RJ VINCENT & CO
Minor 4
ADVANTECH AUTO ELECTRICS
Minor 5
CITY TOYOTA USED CAR SECTION
Minor 6
WEMBLEY AUTOCARE
Minor 7
OSBORNE FLEET SERVICES
Minor 8
CITY TOYOTA NEDLANDS
Minor 9
AUTOSPARK OSBORNE PARK
Minor 10
DENSFORD PTY LTD
NAPA ROCKINGHAM
Winner 1
AUSSIE 4X4 CENTRE
Minor 1
NAVAL BASE CONTRACTR
Minor 2
THOMAS L & S PTY LTD
Minor 3
PALATCHIES EARTHMOVING REPAIRS
Minor 4
SCOTTS CONTRACTING WA PTY.LTD
Minor 5
CHALLENGER FORD
Minor 6
BODDINGTON CRANE HIRE
Minor 7
SERVICEMAN MECHANICAL EARTHMOV
Minor 8
DMC SERVICING PTY LTD
Minor 9
FLEX INDUSTRIES
Minor 10
PACIFIC INDUSTRIAL COMPANY
NAPA WANGARA
Winner 1
SPECIALIZED CLEANING GROUP
Minor 1
ACE MOBILE AUTO ELECTRICS
Minor 2
EGMONT MECHANICAL SERVICES
Minor 3
WANGARA HONDA
Minor 4
KLARMANN AUTOMOTIVE SOLUTIONS
Minor 5
PMD (WA) HOLDINGS PTY LTD
Minor 6
UNLIMITED ELECTRICAL SERVICES
Minor 7
JAD ENTERPRISES
Minor 8
FRANK LEWIS MOTORS
Minor 9
AUTOFIT ACCESSORIES
Minor 10
FUELFIX & TANKS 2 GO WANGARA
A-I KALGOORLIE
Winner 1
AUTOSPARK BULLSBROOK
Minor 1
K & J MOTOR SERVICE
Minor 2
NOWLAN GRADING
Minor 3
MILL 'N MINE MAINTENANCE
Minor 4
ROWLSPEC
Minor 5
SALTBUSH CONTRACTING
Minor 6
SOUTHERN SUSPENSION & 4X4 CENT
Minor 7
ESPERANCE 4X4 CENTRE
Minor 8
KALGOORLIE POWER SYSTEMS
Minor 9
KALGOORLIE POWER SYSTEMS
Minor 10
TJD MECHANICAL
A-I KEWDALE
Winner 1
ALANS AUTO ELECTRICS
Minor 1
GPR TRUCK SALES/SVCE
Minor 2
WESTECH MINING ELECTRICS
Minor 3
WELSHPOOL AUTO ELECTRICS
Minor 4
PETCHELL MECHANICAL
Minor 5
ALL HOURS AUTO ELECTRICS
Minor 6
PERFORMANCE MINE MECHANICAL
Minor 7
EDGE AUTO ELECTRICS
Minor 8
TCR GSE
Minor 9
INSTANT WASTE MANAGEMENT
Minor 10
GDM AUTO ELECTRICS
COVS JOONDALUP
Winner 1
HILLARYS BOAT & TACKLE
Minor 1
TRAKAR PTY LTD
Minor 2
TRENTECH AUTOMOTIVES P/L
Minor 3
SEAVIEW FORD
Minor 4
YANCHEP SERVICE STATION
Minor 5
CAR FACTORY JOONDALUP
Minor 6
MINDARIE WORKSHOP & AUTO ELEC
Minor 7
LANCELIN MECHANICAL
Minor 8
JOONDALUP AUTO CARE
Minor 9
HUNTERS AUTO ELECTS & AIR COND
Minor 10
EXTRA AUTO CARE
COVS KALGOORLIE
Winner 1
GOLDEN MILE MILLING PTY LTD
Minor 1
V T ENGINEERING
Minor 2
G W A AUTOMOTIVE
Minor 3
MEEDAC BOULDER TRADING POST
Minor 4
HADFIELD MECHANICAL SERVICES
Minor 5
GOLDFIELDS TOYOTA
Minor 6
KALGOORLIE MAIN ST MOTORS
Minor 7
AUTO MASTERS KALGOORLIE
Minor 8
J & J MOTOR CYCLES
Minor 9
TAPS INDUSTRIES PTY LTD
Minor 10
GOLDEN CITY MOTORS
COVS WELSHPOOL
Winner 1
KEE HIRE PTY LTD
Minor 1
BOOMERANG ENG 1971 PTY LTD
Minor 2
FORRESTFIELD AUTO ELECTRICS
Minor 3
WATTLEUP TRACTORS (PERTH)
Minor 4
BRADSTREET PARTS
Minor 5
BYE PERFORMANCE
Minor 6
MOORA NISSAN
Minor 7
LOVEGROVE R & A
Minor 8
AUTO CLASSIC (WA) PTY LTD
Minor 9
PLATINUM PLANT & EQUIPMENT HIR
Minor 10
365 PLANT HIRE PTY LTD